DESCRIPTION
You'll have so much fun that you won't even realize you've made healthy living a habit!
The goals of this 6-Week Fat-incinerating, Confidence-building program:
Trade in your harmful habits for healthy, happy days
Reveal your true self with a results-driven program
Combat health issues with a safe training program and gut-nurturing meal plan
Lose fat fast with fun and instructional training sessions
Feel comfortable and supported with a loving, caring and experienced coach (me!)
Delicious meal plans so you don't feel deprived
Reduce overall inflammation to relieve depression and anxiety
I designed this program for those who believe THE JOURNEY OF A THOUSAND MILES BEGINS WITH JUST ONE STEP!
You are ready for this program if you are sick and tired of feeling like you are missing out on the life you are meant for. In just a week you will feel like a new person, in full control of your future and excited about comes next. Your Biome program includes ALL of the following:
YOUR PERSONALIZED BIOME TRAINING APP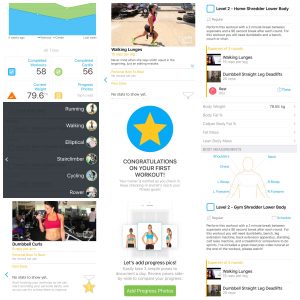 Fully trackable – you choose whether you want to track every exercise or check-in for your workout of the day
Advance from Level 1 to Level 2 at the 4-week mark
Video tutorials built in for each and every exercise plus some bonus motivating videos with great tips and tweaks
Syncs to Fitbit and MyFitnessPal, so you can track your daily meals and calories
Optional weekly check-ins for weight, progress photos and measurements
Achievement graphs that visually show you how well you are doing in specific exercises and body stats
Calendar to view what's up for the weeks' ahead and what you've achieved in weeks' past
You choose your units for Weight (lbs or kg), Distance (kilometers or miles), Body stats (centimeters or inches)
Choose your Country and Timezone
YOUR GUT-HEALING, FAT-BLASTING MEAL PLAN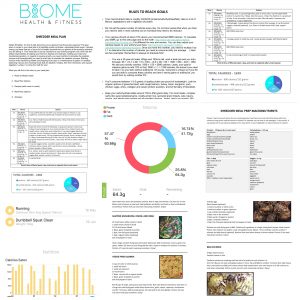 Uploaded directly into your Biome App profile under meal plan
Sync your daily calories through Biome and MyFitnessPal
Heal and maintain gut health by implementing alkalizing, bad-bacteria killing and positive-bacteria promoting foods such as coconut kefir, vegetables, yogurt, berries and juices
Full macronutrient breakdown for every meal and overall day
Delicious balanced meals and recipes with option to swap meals from other meal plans
Grocery list
COMMUNITY AND EMAIL SUPPORT
I will email you with fun and interesting facts on every topic imaginable. Nutrition, training, supplements, sexy and functional fitness gear, mindfulness, relationships, life balance, sex, parenting, meal preparation, vitamins and minerals, loads of recipes, health issues and fixes, just to get started. Feel free to email or post your topics of choice and I will write something informative and useful.
Private Social media and IN-APP groups for support, motivation, Q&As and of course bragging rights