You'll have so much fun that you won't even realise you've made healthy living a habit!
The goals of your 8 Week Challenge:
Trade in your harmful habits for healthy, happy days
Reveal your true self with a results-driven program
Combat health issues with a safe training program and gut-nurturing meal plan
Lose fat fast with fun and instructional training sessions
Feel comfortable and supported with a loving, caring and experienced coach (me!) and community
Delicious meal plans so you don't feel deprived
Reduce overall inflammation to relieve depression and anxiety
I designed this program for those who believe THE JOURNEY OF A THOUSAND MILES BEGINS WITH JUST ONE STEP!
THE BIOME TRAINING APP
SNEAK PEEK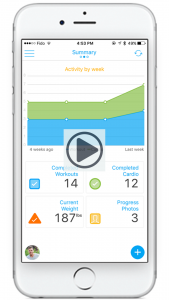 Fully trackable – you choose whether you want to track every exercise or check-in for your workout of the day
Progressive training program that advances with you. Move from Level 1 to Level 2 at the beginning of week 5
Mini weekly challenges for bonus prizes
Video tutorials built in for every exercise plus some bonus motivating videos with great tips and tweaks
Syncs to MyFitnessPal and Fitbit so you can track your daily physical activity, meals and calories
Optional weekly check-ins for weight, progress photos and measurements
Achievement graphs that visually show you how well you are doing in specific exercises and body stats
Calendar to view what's up for the weeks' ahead and what you've achieved in weeks' past
You choose your units for Weight (lbs or kg), Distance (kilometers or miles), Body stats (centimeters or inches)
Choose your Country and Timezone
THE MEAL PLANS
You will learn how to eat for your goals and daily physical activity
3 meal plan options found under the meal plan tab on your Biome app profile
Loads of recipes and tips on how to eat healthier without giving up your favorite foods
Sync your daily calories through Biome and MyFitnessPal
Full macronutrient breakdown for every meal and overall day
Meal prep tutorials built right into the app
Food Envy challenges. You get credit for posting your healthy food options
Grocery list
THE COMMUNITY SUPPORT
You have access to me via the in-app instant messenger 24/7.
I will also coach you via email. I'll send you weekly emails covering important and interesting topics such as nutrition, training, progress tracking, goal setting, breaking through mental and physical plateaus, supplements, recipes, success stories and more.
Exclusive, private Facebook group for support, privacy, security, motivation, Q&As and of course bragging rights